Shoutouts
Here are some howdies and inside jokes- if you read this and don't understand anything, too bad. If you think I forgot you or somthing I probably have, so I'm sorry.
Just wanted to say HAY! to:
EGG (whoa, its the, ABDOMINAL SNOWMAN! NO SCREAMING! EEK! MELON EGGS! Or Elk? ITCH! ewwww! *frero jaka frero jaka* Are you Bubbily? Catterpillars!! When the cow falls, things happen. You shampooed Eriks hair with bubble solution? WHAT?! The snowmans name is Billy Bob. Anyone? Anyone? The clear eyes dude! ..."Its just.. a little crush.." That woman is just plain FLAKEY!! Getting glasses. Now your just like me. Caterpillers at Mclasters. oooh Charlie!! Is that him? No thats not him. yeah it is!!! noo.. yes... hes moving around??!!! noo... yes.. SCRATCHY SCRATCHY!!!ewww.. thats discusting.. he needs some control or lice killer or something... ... whats with that man.. uhhh... I COULD HEAR IT!!!! aaah-- haa! traditions at eggs house, begining of summer, and end of summer... Yates at my house... Penis's in jail?! Whaaat... That's a monkey?! It looked like a viking! Mr. Peepers.. Please bring me a dream.. Mr. Sandman... YEEEEAAAASSS?? Allagata.. don't be a playa hata.. Allagata... The volxwagon commercial with the glowing thingy.. "ooh"(waves hand), your cousin's comming?! YEAH! PHEECEES?! hmm.. Feecees? Phesces? I don't know. *puts hands around head* *looks around* ~ WHAT!)

Carman K.(Circus Peanuts!!!! Circus peanut movies... Cheese Ice experements. Max-Sam. Pat Rogers Road at 10:00... So many plans for the future... Varicose Veins...ewwww what are those.. The neck twitch. Kakki colored Poop!?! you have Kakki colored poop?!!! I swear I'm a pyro you know. Flaming bats, flaming trees, flaming everything. Spontanious combustion is sooo cool. That psycho girl that tears up the bathroom in Mr. Russell's pod is going to burn the place down one day, I know it. The posters about kittens and little girls on beaches is down, the light fixture is hanging, the toilet seat was in half... what next? Your site is my hero. The three legged yellow monkey that sees all, knows all. My commune of nuts that lives in a schoolbus down by the river like Chris Farley. Wow... Mixed nuts.. must be a commune...)

Maggie(I swear this room smells like ass! Making fun of coach Daye at morning meeting.. "We had a nice game, it was a tough game, y'all come on out, ya hear." hahaha GODSQUAD!!!!!!!!!! WITH A LITTLE HELP FROM... GODSQUAD!! Flirting durring OM... you... WHORE! jk. Engagement rings from Carroll, AND Erik. hehehe Don't break anymore belts..StoooOOOOoooop... flirting with Trey.. damnit.. STOP THAT!)

Pascale(Girl... you need to come back to the States.. What? I mooned Camp? OMG NOOOOOO! "Mooner" uh. Well, you had a spot! hehe. I can't freakin remember anything else but that, and the condom post cards...)

Sam -camp Sam-(bong industries... booty bongo! your parents did what?! my special internet noises. Guh! Queef! hmm... hahahraaa... yay! okee. "I'm making a sandwich so I can eat it" mmmkkkay.. My 16th birthday I'll be your sister. hmrg. Democrats! all right.)

Erik(Dearist Erik. I erased all the old inside jokes because they sucked. So now, I'm just going to say, YOU DAMN REPUBLICAN WOMENIZING CRIMMINAL! VOTE FOR GORE!)

Katie( Jesus on wheels! whaa? I love you mommie... KATIE! SHUT UP! Lets go get some chips and salsa from Eckerds!!! yeah!!! Bubie.. You can make it to the commons on your own.. I swear... YOU PUNCTURE WOUND! lots.. and lots.. of makup)

Derrick(asdfasdfasdfsdf, now your throughly confused, "don't tell them I wrote the script!" "WHOA! boy, git your big booty outta them bushes!" Yates, Derrick, and Me are going as Jehovas wittnesses for Halloween. I always wear costumes... huh? Shut up Derrick, I don't care if I suck at BS. SLUG-RAGE EK!!! die die die!!! EK and the little kids... you're just jealous you don't have as many little kid friends as I do. haha. choclate on your teeth again Derrick. A pantload of puke outside my door, what a nice parting gift... sick.. sick... Running up the hill again?? Derrick King Live. Or.. Larry Derrick live. Well, Hadrian had a nickname.. he called me Magnus Pater. He called me Big Daddy!!!! Evil Derrick. Ek and the little kids. rrr. Jiggle your shoulders for awhile... there ya go. The biggest inside joke for me and derrick has got to be....-- SHUCHOMAUTH!!!! alright... shut up about the little kids... CROTCH CORN!!!!!!!!)

Matt("Gee Elizabeth, what did you talk to Erik and Matt about on the phone yesterday?" "Well, we really didn't talk, he just hawked lugies on the phone." Miss Pretty Eyes- if you call me that again I'm going to rip off your arm, beat you uncionsious with it, then shove it up your nose, okay? Sex talks till 3:00AM.... strange. Missing the IMAX movie... lol Hey Mrs. H., This is Elizabeth... Im soooorrrrrriiiiiieeeee.... Phoenix is from Harry Potter, the bird... duh. We talk about your social woes enough... my turn!)

Seung-Hee(Do you still have my present? OOOH PRETTY PENS! "Let my pimples gooooo!" Who let the Dogs out? HOO! HOO! All our friends are 90 man! Flip with me...*shakes pen* Seung-Hee's panio teacher drives across the ocean and eats all her chicken thats right. Korean Pride man! Make JB laugh! You look F***y today! WHOA..... WHOAAA WHOAAA WHOA WHOA... Weird sounds in Math... whoa... up all night online man.. thats not bad.. THERES NOTHING WRONG WITH BEING A DORK!! Faces in science...What's Golf??? What are you talking about? It's when you hit the ball in the hole, right??? Yeah, that's it..If you don't like mashed potatoes, you have to say WHY you don't like mashed potatoes!!!!:) WHAT ARE YOU DOING!!!!)

Taylor(Alright act like Erik now-lol*aww my balls* Look, it's big-headed Elizabeth.. relaxing on the soccer field, just sitting there. Laughing at Amy while hanging around in the outfield. Nothing ever happens in the outfield... thats why we are here. Everyone needs a little T.L.C. :) WHAT ARE YOU DOING?!!!)

Charlie(The old navy song... dood dadaodeeee... I know why you were shaking... because Mclasters is infested with caterpillers and one got in your drink... hahaha. poop is a cool word. You piece of poop!!!! You got a car!!! okay. pick me and egg up at.. 7:30 tommorrow! haha JK Tipper Gore needs help man...Yeah my whole family think's you're a 'good lookin boy'... Your girlfriend was a psyco??! DUDE!)

Perrin(I'm thirsty, OMUHGOSH! WHAT SHOULD WE DO?! STARWARS MARATHON! CHEEEEEEEEEEEEEEEEEEESE!!!! don't be a DITZO! hehehe ROGER ROGER OUCH!! Ow my tittie! Real-World episode Erik. You want another bruise?? That flavored sugar went everywher that time you fell. Chicken Butt. Tickle my Pickle. Maden can't see her toes. Your boobs have erections??! what??!! Do you love me Joey? do ya?! Her boob echos! REAL SEX!! Still don't know what that was Perrin? "I know what every 8th grade boy is doing right now in this hotel!" eww. Don't play with your food Elizabeth. You always look at it. *Mommas gonna take the kitchen.. dads gonna take the den!* Castrating the pizza with sisors. Take a picture!! Get fat EK eat all my food. Do you have any cookies??? NO PERRIN!!! rrr i feel fat today... am I fat? fat fat. NO Perrin you are not fat. The hot dog dick joke... we are the only ones who think its funny... MY NAME IS NOT MORTER!!!! ITS MORTAMER!! Morter is that stuff you put in between bricks. haha. The crotch stroke... GET AWAY! Charlies Angels!! YAY! Who bought it Elizabeth? I BOUGHT IT!!!!!sounds like.. I FARTED!!!! omg... so embarrassing...Booty! Get over here! Summertime stories for Q... hmm.. "We arn't really burning any calories here..." Papa Pieland... HAPPY PAPPY?! OKAY?! HAPPY! PAPPY! The van didn't say that. It said something else. happy pappy... gosh.. The alien movie... when they went to the grocery store... and the little boy in the wheel chair... soooo weird... Going over the speed bumps at the gas station with the kid that has band-aids all over his nose.... WHEEEEEE!))
Wi-YAM(Riding in the car.... Riding in the car... riding in the car DANCE... Stepping on the gas.. stepping on the gas... Monty Python jokes.. never ending... singing Bohemian Rapsody in Humanities... You left us! You went to europe!!!!!! WILLIAAAAAMMMMMMMM!!!! COME BAAAACCCCCKKK!sadie the sock. DR SCIENCE!!! oh boy!! MOOKIE WE LOVE YOU! Secretly taking over the HHES library....Project EK and Project AA. Why doesent anyone like us?????!!!! theres nothing not to like??!!! damn this... Mrs. B in a concentration camp. Why are you giving me a tatoo??? Why are we surrounded by barbed wire?? Why are all those people just laying there??? The weird voice... NOOOOoooooOOO! STOP! stop Stop STOP stOP!! WHAT TIME IS IT WHAT TIME IS IT WHAT TIME IS IT??!!! The cool fishing watch... yay. Playin Golf... Please hand me a towel, Mr. Tangerine Spedooooo.... The British comedy club at lunch. Narf... kids these days. The pimpin nippy jacket twins! hahaha... DANGLER!!!!!!! what does it MEAN???!!! Freshman Dangler. What a name. DMB TICKETS!!! I'm not a greedy pig. No. No I'm not. No. Shut up. No. People take your food... the regular noises... STOOOOP!!! NOOOOOOO!!!! Whispering with Mr. Russell... hahahaha...)
Yates (My specheshial friend. what?! NO NO YATES DON'T DO THAT TO ERIK AGAIN! STONEHENGE! what?! It's an enegizer bunny? moose? huh?!The 4 walls rule DOES apply to that phone conversation...Latin Feast, mmm mm. No my mother is not a demonic evil person... Elizabi. Tinky-Flaccus. Skippius? Longus?? whaaa... No Yates.. No Aqua.. *I'm a barbie girl...in a barbie world... No no not hearts AGAIN!!! MEAN is for what you said about poor evil Derrick Yates, don't forget that.)*ok class you can study now* *ELIZABETH! lets go in the hall to study!!! hadrian. wait.. my mom might have worn that bathrobe without clothes on underneath... haha!!! eww.... nasty thought. I got you a present from France.. but I need to give it to you ASAP because its too tempting... pediophiles... Elizabeth! You grew over the summer!.... Why thank you Yates. What you drew was NOT a monkey, that was a viking or.. I don't even know... and what was with the PENI in Jail????? ... CD's as projectiles in your room... that was dangerous... I think you're sterile now. Haha. All on tape, too.)
Chris: (PLEASE! I swear he handed me the coke and said "Please" maybe he said Fleece, or Priest, or fleas, pointed to a napkin and said fleas... What is in this food anyway?? MOOOOO!!!)
Patrick(GINK!!! Gink and Scones. yay. EVIL POOH!!! die pooh. enough with your graphic sesame street drawings... Faces in Science. Mrs. B in a concentration camp. You guys..... why are there people in piles over there??? The big hand wave thing in class. The tappy Tappy point to whose cool thingy in humanities... random monty python recitings durring school... Liz and Richard.... we just laughed our heads off at him and he thought we were excited about Greece! "Yeah Liz." "Shut up Richard" They jerked off a lizzard. The whole thing? wait.... um... OHHH! oh shut up... Praying for rain... hm...)
Joe(I'm a manatee... movie ticket lady: How old are you? Joe: 15)
Jennie & Sharyn & Seung Hee(If you don't like mashed potatoes, you have to say WHY!!)
Kala(Himlech.. The fat dude from A Bugs Life.. I'M A BEAUTIFUL BUTTERFLY!!!! I'M A BEAUTIFUL BUMBLE BEE!!! *toss the fish... fish flies through air... toss the baby... * Scottish men wear wool skirts.. wouldent that itch?? eww.. Laughing at nothing... Making Mrs. Nigh really mad... Thats out hobby...*CRACKKKKKKKKK* skikkkkktiititt)
Carman C.(AHAAAHAHAAAA.....)
Rex(SPUNK! I said skunk I swear.... you know what spunk really is... right?)
Mrs Mcleod(never forget the OM typos *DERRICK!*, - awww man who nuked the nativity this time?!- got coffie?!) Oh no not Elizabeth again... Notes on the board...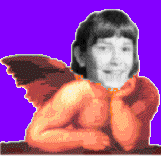 Thats me, in my ever-present heavenly state of course. Excuse the picture, its old and been messed with a little too much- but it's me all the same! hehehe