Elizabeth's Online Journal 2001
Where you can read about my meaningless life in 2001.
Newest enteries at the top. That's right, I changed it.
Friday, August 17, 2001
4:43PM
Went out with Perrin for a short ride. Funnnnn. Excellent fun.
Old friend called today when I was working out, Elisha from... a billion years ago. We talked for a long time, caught up. It was great. Great fun.
Last night went to the Clower's for dinner, saw a bunch of OLD hhes people from a billion year ago. It was cool. Bunch of outdoor people. Excellent.
All cavities filled, no diseases, blah blah so glad doctor's visits are over..... yes....
Going to Beaufort this weekend, all you HHES people, I will come to school the first few days. I'll see you, don't worry. I'll be home Sunday.
Does anyone know this person? :
ardjngkg69: hey want to talk
ardjngkg69: asl
TwEEtrpEEp: 15/f/sc
TwEEtrpEEp: you
ardjngkg69: 16/m/sc
ardjngkg69: do u have a pic
TwEEtrpEEp: no
ardjngkg69: want to fuck
TwEEtrpEEp: lol
TwEEtrpEEp: what a dork
TwEEtrpEEp: is this someone I know
ardjngkg69: i am hard
TwEEtrpEEp: who is this
TwEEtrpEEp: will? joe? chris? derrick?
I know that was someone who knows me. Stupid boys. I hope they're embarrassed at their summer bordom
Monday, August 13, 2001
1:39PM
Back from Atlanta. New baby is cute and very small. Small baby. I love it.
People coming back from vacation. School starts very soon. I still have tons and tons to dooo..... ohmuhgosh. It's just overwhelming. I'm really happy theres going to be a football game at HHES before I go. That is good. Funnn.
Bored Bored Bored. I'm gonna make some muffins now. Funnn...mmmm
Friday, August 10, 2001
11:02AM
William and Yates come home today!!!!!!!!!!!!!!!!!!!!!!!!!!!!!!!!!!!!!!!!!!!!!!!!!!!!!!!!!!!!!!!!!!!!!!!!!!!!!!!!!!!!!!!!!!!!!!
YAY!!!!!!!!!!!!!!!!!!!!!!!!!!!!!!!!!!!!!!!!!!!!!!!!!!!!!!!!!!!!!!!!!!!!!!!!!!!!!!!!!!!!!!!!!!!!!!!!!!!!!!!!!!!!!!!!!
Much to do. Finished book one of three for OA summer reading last night. New sleeping bag continues to be spankin cool, er, warm. Going to Atlanta for the weeked to visit a new baby. Fun... Need to pack. Pack and unpack. Pack and unpack. Pack, unpack, pack, don't unpack and take previously packed pack. arghghaghaththahaaaa
Looking forward to talking to William and Yates, I hope they get home before I leave.
Thursday, August 9, 2001
2:58PM
Another sucky day. My sleeping bag ordered from campmor.com came yesterday. I slept in it last night on the floor of my room. I would have slept outside, but since it was 900 degrees I figured I'd be better off inside. It's really neato.
Picture appointment cancled because mom is a twit. Rescheduled next week.
Too many things to do.... it ain't fair....
Tuesday, August 7, 2001
11:01AM
Whoa. It's been awhile. Long time no writing. Hmm... Been to NC since I last wrote, to the wholesale jewelry show with Carmen. We had an excellent time, blowing up circus peanuts and experementing with cheese ice and such. Funnnn. We're going to make a joint-website that has all our adventures on it, and hopefully we'll get out own domain name. Most Excellent. I want a girl with a short skirt and a loooonnnnggggg mullet:)
Been home for a long... time. I did get accepted into the Outdoor Academy, so my back to school shopping has a whole new meaning. Sleeping bags, fleece and wool things, knives, boots... so much to do. So scary though! Leaving home... it'll be great.
Find out more about OA here if you want, you gotta click on the section that says "Outdoor Academy" Eagles Nest Foundation
Last night I went on a big music search on limewire. Trying to find all the music I like in commercials, like that song from the benz commercial "All I wanna do is to thank you, even though I don't know who you are, you let me change lanes, while I was riding in my car" It's excellent. The song is "Whoever you are" by this dude named Geggy Tah. I highly reccomend it.
Speaking of commercials, victoria's secret got some kind of new ad campagin for their "Body by Victoria". It's this girl sitting on a chair in her underwear on a black background with the song "One more time" by Daft Punk playing, and she's dancing in her chair, swinging her hair everywhere and stuff. The camera angles change and everything, it's really kinda funny but cool at the same time. My mom saw it and really liked it, I think because of the song, but anyway. Last night I found the song for her on limewire and played it. She dragged the computer chair into the living room and started to try to dance in the chair like that girl, clothed of course, but it was hilarious. We laughed really hard. I love my mom.
Glad to be home at moms house. Everyone find me and talk to me! Happy birthday to William (July 28) and Derrick (Aug. 5). They're not the same age though...
Enjoy the last little bit of summer....
Sunday, July 22, 2001
Late at night
I know I've been gone a long time. Seattle was great. Big trees, volcanos, tsunamies, fish, rain and cold. It didn't get above 75 degrees the whole week, and it's July!! How strange is that. It was like SC winter weather in July. No shorts, no sandals, jeans and sweatshirts. And rain! Man. That place is so sun-deprived. It really is great though. Mount. Ranier is the coolest thing there (literally... sorta). It's just a huge mountain that appears out of nowhere! A volcano! We went there and of course the weather got bad, but I made my mom go on a short hike with me anyway. It was well worth it! We were in this meadow, a meadow! Have I ever been in a meadow before this? A real meadow? Well this was like the cover to that book called Hidi, flowers and big huge trees, lookouts over the universe. There was snow there too! I saw snow in July!!!! I touched it!!! Real snow! And I saw a glacier. It was great, everyone go. I really liked downtown Seattle too, that was awesome. You know those clips of men throwing fish to each other and yelling and smiling in markets? They play on TV pretty often. I went there! Pikes Place Market. It was the coolest thing ever. A person would buy a salmon and one guy would yell, "SOCKEYE" and would throw the fish to another man across the counter who would catch it with a piece of paper. One time the guy who was supposed to catch the fish missed, and the fish flew across their market stand thing. It was quality fun. Mom loved it.
Since it rains every day, all day in Seattle, I figured it would be the best place to buy a rain jacket. The outdoor equipment company REI (Recreational Equipment Inc.) started in Seattle, so we went to their store and I found a rain jacket. There are a lot of different types of rain apparel. Water repel technology.
Starbucks, Jimi Hendrix and Microsoft also originated in Seattle. Pretty darn spiffy. Coffee is a big deal there for the plain reason that it is never hot enough to not drink it. The sun shines so little there in the winter that people go through "Seasonal depression" where they become depressed from not seeing the sun. They go to sun therepy places where I guess a fake sun shines to make them feel better... Isn't that horrible? It's so sad, I didn't realize in my small little world that there are places where the sun doesen't shine. It really does affect you too, after a week I was so glad to see the sun.....
Carman, I ment to call you today, but mom tied up the phone line till 10:00 tonight, so I'll try tommorrow night, but it will probably be Tuesday till I get to really talk to you. I'm going to Beaufort tommorrow for a day trip. Sam, glad you're back in town, missed you! Sharyn, you take care of those chicks...
Until later.... enjoy Summer laziness!!! :)
Thursday, July 12, 2001
8:36PM
Happy Birthday to Seunghee yesterday!!!!
I've thought of something. I was musing over how I wrote the paragraphs below, and how the commas in it don't fit in and are quite obnoxious, and I thought, "My commas just don't want to conform to Gasque's standards" Noncomformist commas. All my commas are non-comformist, yes. The, commas that I write are, non comformist.
Neopets have taken over my life.
3:51PM
How I love summer. Last night was dinner and a movie night. Carmen is right, it should evolve into a ritual. William is very, skiddish, around my dog. I don't understand it. She barks, he jumps, every time. William, Sam won't hurt you. Just relax. Her toys won't hurt you either. I haven't laughed so hard all summer.
I discovered a new thing to eat. Chocolate ice cream with Cromers popcorn. It's great, you just put some ice cream in a bowl, and put popcorn on it, and mix it up, and eat it with a spoon. Most excellent. Lata Alagatas! :)
Tuesday, July 10, 2001
6:45PM
Lazy summer days... Filling time with nothing... Napster completly died.. I'm so sad. I downloaded Bearshare, an agent of Gnutella, and I hate it. It's hard to get a file that works, and once you get it downloading, it takes waaaay too long. ANGER!!!!!! I don't know what I'm going to do. File sharing woes... Saturday Night Live is on Comedy Central... fun. I watched "The Virgin Suicides" last night, it was good. I liked it.
I think tommorrow, and maybe tonight I will change my room all around. It's a mess right now, and I need to clean it anyway. Lazy summer days... Nothin to do. Been fixing up the website... I've been working on a new one too, but I'm not going to unveil it yet. It's a secret... I re-worked the journals too, ain't it dandy? Kinda toned down. The comic sans font was irritating me. The newest enteries will be at the top now, no more endless scrolling:) You're welcome, you're welcome. You know what? Animal crackers taste really good.
Monday, July 9, 2001
3:05PM
How much do I love summer, let me count the ways... Lots been happinin, beach with Perrin for a week, home for a week, Atlanta for a week, Florida for a week, and now home for a week. Joy!!! I just got back from Florida yesterday, it rocked, we went sea kayaking at the beach... kayaked with dolphins.... It was excellent. Seen a lot of movies! "Carrie" was excellent, "Finding Forrester" was excellent, "The Legend of Bagger Vance" was okay, "AI" was excellent, "Best in Show" was excellent, "Vertical Limit" SUCKED!!!! Don't ever see that. Love movies... Been doing summer reading... riding my bike and walking around.... My quest to be accepted into the Ourdoor Academy continues. Pretty neat.
Today I got up, walked around the neighbourhood for no reason, took a shower, walked to the Fresh Market, met William there, got lunch, walked to the books-a-million cafe and ate, walked to TCBY, got ice cream from Perrin, walked home, now I'm here. It's been an excellent day!!!! Only thing to make it better would be to melt some circus peanuts with Carman. Funnnn!!! So many people are home, it's so nice. Happiness!!!!!!!! I'm gonna chill for awhile, then I might go walk somewhere else... Summer is soooooo fuuuuuuuuuunnnnnnnnnn. I love it!!!
Friday, June 8, 2001
12:47PM
Happy Summer!!!!!!!! Everyone go see "Moulin Rouge", I saw it the other night and it was AWSOME. You remember "Romeo+Juliet"? Same director. It was SOOOO GOOD.... The music was great, the filmography, the dancing... EVERYTHING!!! I laughed so hard.... It really is a great movie. Go see it. It won't be the same if you just wait and rent it, nooooo you need to see it in the theater. I wanna see it again, and buy the soundtrack.... hmmm... Lazy summer... when getting up at noon is early and ramen is all I eat... mmmm. I'm going to the beach for a week tommmorrow, so I won't be here to update anything, but go to Carman's site because it gets updated all the time and it's awsome. You know, Carman isn't the only one who says "Rock." , Sifl and Olly do too!!!!!! I love Sifl and Olly. Rock. It's the worst thing MTV ever did taking that show off the air. mmmghhrrr. Speaking of MTV, anyone watch the MTV Movie Awards last night? They were okay. I'm mad that "Billy Elliot", "Cast Away" and "Almost Famous" didn't get crap when "Save The Last Dance" did. Teenagers have the worst taste... all the awards were viewer-choice, so of course all the best movies get snubbed. How stupid. And Jim Carey's acceptance speech wasen't even a comfort!!!! It wasen't even funny. I think Will Ferril was the highlight of the whole thing. He peed his pants. How awsome is that!!!! And Kirstin Dunst and Jimmy Falon did a great job hosting, I just wish they did more. The parody on "The Mummy Returns" was great, but they got Andy Dick(head) to do a parody of "Cast Away".... man. DO NOT make fun of Tom Hanks, especially in that movie, and DO NOT bunt Wilson. Andy Dick needs to drown or something. I can't stand that guy. He makes me so mad. That's the third famous person that he shoulden't be making fun of (he previously has made fun of Tom Green and Moby). He's NOT funny! What is it that MTV thinks is funny?! huh???? No one likes Andy Dickbrain! Someone could make so much fun of him.... you shoulden't be making fun of people more famous than you are when your last name is DICK. That is the truth. Okay. Well, I need to pack for the beach. Everyone have a good week and yayness and funness. See you all lata allagatas! :)
Monday, June 4, 2001
3:13PM
Summer.... Pajamas all day... Sleeping till noon... daytime television... fun.... I've been updating stuff... like, the famous people, and the links... just for kicks. I watched some good movies... "Wonder boys" and "Almost Famous" Both were awsome and you need to watch them. Making plans for the beach for next week, it should be really really fun. Thats the best part of living in this arm pit, its two hours away from the beach, and about four hours away from the really good mountains. Gotta love that. I've just been sleeping a lot... cooking. I cooked this Greek spinach cheese filo thing that is REALLY good.. called Span-ah-caa-pee-tah (er, that's how it's pronounced at least). mmmm. Did you know that when U2 was on a tour they called George Bush (old one) every day? This was a long time ago, of course, but thats so cool! I'm watching the VH1 behind the music for Everclear. Their names are Art, Greg, and Creg. Strange names. Cool music. Except for the "wonderful" song. That song needs to burn. I like that song AM radio. yay. I need to go do something... different.
Thursday, May 31, 2001
6:03PM
SCHOOL'S OUT!!!!!!!!!!!!!!!!!!!!!!!!!!!!!!!!!!!!!!!!!!!!!! YEEEEEEEEEE HAAAAAAAAWWWWWWWWW!!!!! Took my last exam this morning, math, got through it, left school for at least a week (book buyback). YEEEEEESSSSSSS!!!!!!! I'm still reeeaaally tired from the exam cramming and strange sleeping schedule, but I'll get over it. I want to go to hot topic tommorrow!!!!!! argggrrrgggg. Yeeee Haw!!!! how fun to say is that. I wanna go see that "Mulan Rouge" movie tommorrow. Or Shriek, or... Pearl Harbor??? SUMMER MOVIES!!!!! Can you deal with that?!!!!!!!!! YEEEAAAHHHH man I love summer movies. I'm gonna go get some ginger ale to drink ... mmmmmm fizzzz.... Tommorrow should be like, the best day ever, because it's a Friday and there's no school!!!!! Gotta go see lots of movies and do stuff..... My hippie berkenstocks should be comming in the mail today or tommorrow... I guess tommorrow because they didn't come today. Mein. I wanted to wear them. I love waiting for packages... It's so funnnnnn.... Well I think some kind of cookie is stuck in my nose, because everywhere I go it smells like cookie. That happened like, all week too. So weird. Cookie up my nose. SUMMER IS HERE!!!!!!! LAZY DAYS FILLED WITH FUN AND LAUGHTER WITH PRETTY FLOWERS....... ooh. I'm so happy.
Monday, May 28, 2001
6:37PM
Humanities exam down, English, Latin, Math, and Physics to go. Damn the exams...
Sunday, May 27, 2001
4:38PM
Four more days, just four more days... Summer is almost here.... DIE EXAMS!!!!!!!!!!!! DIEEEEEEEEEEEEEEEEEEEEE!!!!!!!!!!!!!!!!!!!!!!!!!!!!!!!!!!!!!
Thursday, May 24, 2001
11:08PM
mmm... Exams. Evil. We should be able to exempt ourselves from exams like the rest of the world. hmm. I went to Mr. Highlander tonight!!!! It was great, totally worth my $6, and I'll never miss another one. It really was funny as junk, Griffin and Rex and Frank dressed up like Brittany Spears with big boobs and everything and danced around ... it was great!!!!! The only part that wasen't totally rockin was this weird band called "Static" that someone got to play. They were an attempt at an alternative rock band, playing mostly cover songs. One of the little dudes was like, 12. The drummer was pretty good, but his hair distracted me. It looked like someone had taken a fire extenguisher (the white powder kind) and sprayed his hair. The singer guy coulden't sing very well, so to compensate they just turned up the drums. We were almost blown out of the auditorium. It's one thing to have your ears blown out by the Dave Matthews Band, it's another thing when it's a garage band trying to play 3-year-old hits from (the Columbia radio station) 93.5. What happened to that station anyway? It used to be "93.5, the rock alternative" and that was cool, then it turned into "Channel 93.5" and it sucks. I think it's because Fook left. I quit listining, so I guess I should shut up. Big John in the morning is okay though. Just, whatever you do, whereever you are, do NOT listen to 104.7's morning show, "The Morning Rush" with Johnathon Rush.... that man is the devil. I don't know why I'm talking about radio stations!!!! arg. We finally got yearbooks!!! The front cover looks like the "Stairway to Hell" not to complain some more or anything... hehaa. It's all right for our first year without Ms. Haglier doing the yearbook. What can we expect? Signing yearbooks is so fun. Thats the best part. People running up to you and saying, "SIGN MY YEARBOOK!!!" and all the enteries from your friends usually have a similar appearance, especially among the girls, the "I'm going to miss you so much" and "Have a good summer" and "Call me anytime girl!" and "remember (insert inside joke here)" . But that's what makes it so fun. Yesterday was our last Russell Room Lunch party, I put a TON of pictures from it on the picture page so go check them out. We ate corn chips and salsa and brie and triscuits and there was much joy. Yates was even in a good mood. Carman stopped in for a visit, it really was fun. I'm going to miss lunch in that room more than I can even comprehend right now. I think looking forward to lunch in there every day was what got me through this hell of a year--- man. I can't believe my entire class will be sophmores next year!!! I remember when we were all in fourth grade, and it felt like there was nothing else we had to do, time to graduate. The middle school hit and that was just orginized chaos. Now high school? We arn't dead yet? We arn't grown up with jobs? Is there life after Heathwood? I'm still pondering that one. What on earth is happening???? hmm. I just want to go eat lunch in Mr Russell's room. Saftey. After Mr. Highlander tonight I got in my moms car, and she had brought Sam with her. Sam was riding in the passenger seat, so I got in and Sam climbed all over me and I hugged her and petted her. Sam is the best dog ever, I don't know what I'd do without her. She doesen't care what you've done, or what you look like, what you feel like, what you need to do, she just loves you all the same. I wish more people were like that. I wish ANY person was like that. I hugged Sam close and she just looked out of the window, like she was searching for something...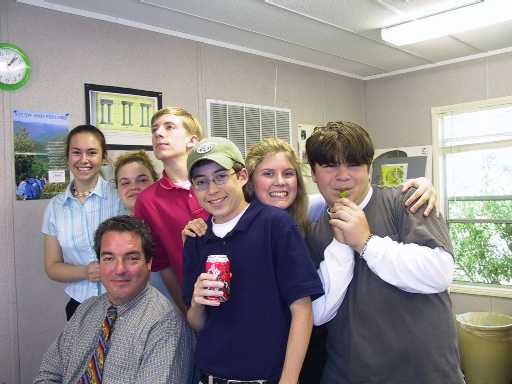 Monday, May 21, 2001
8:08PM
No more restriction!!! And there was joy. This afternoon I re-learned some volly ball stuff with Kate, Jennie, Seunghee, Olivia, Carman and Collette. It was fuuun, we were in the hot gym, just hitting volly balls... aw I hope I get on a team.... Today the high school just watched senior exabhitions... it was alright. Some were good, others wern't. It was fun. Exams are coming up and that sucks, but it also means the end of the year. Only ten days left of school!!!!! Yay. I have to get off now because I hear my mom coming down the stairs and she is going to shoo me off the computer... aarrrahhckkk... shooooo!! shooO!!! NOTE TO ALL: WILLIAM LIKES PEOPLE TO TAKE HIS FOOD. IF HE SAYS "NOOOOOOOOOOO" IT MEANS "TAKE MORE PLEASE, SHARING IS MY FAVORITE THING TO DO".... hheahahaaa. I'm so evil... :-D Thanks to Carman for the totally rockin my socks with the new button thing....

Sunday, May 20, 2001
6:20PM
Home from dads house. Listining to "Crash" by the Dave Matthews Band the remix version, but I'm trying to find a specific version of it I used to have on my napster list. It's been in my head for a week, and I coulden't identify what song it was until Friday, and now I'm home to find it and Napster is being a poo!! Everything is banned now.. you have to search and go through tons of crap to get to your song... damnit. My mom just told me that I'm still restricted from the computer. I hate being a teenager. So grown up yet such a kid all at the same damn time. Oh well, bye.
Saturday, May 19, 2001
10:08PM
School's almost out!!!!!! THANK GOODNESS!!! I'm so excited about summer!! I will be going to the following places: Atlanta, Wilmington NC, Seatlle, New York City, Beaufort, Fort Lauderdale (sp?) ... I'm really excited. I'm not going to Camp Greenville this year, and I'm sad to be missing it. I really did want to go. Next week should be intresting, exam reviews... It'd be so neat if you could just sleep through exams and all this leading up to exams, but still do the work, and then wake up, and be out for summer. That would be cool. I slept in late today because I needed to catch up on some sleep. It felt good, but I missed going out with Carman and Kate and Olivia and Jennie and a bunch-o-people. Sad. and I wanted to see the big slab of marble ice cream place... mrggaahha. Everyone needs to go to Carman's site and look at all the freaking cool pictures she posted. The new ones are from LPT and the anthology exabition (sp?) hm. Good stuff.